Well-known member
Moderator
Joined

Mar 30, 2005
Messages

7,043
Reaction score

5
Points

38

A trip to your nearest JCPenney will get you these Nike trainers at half-price. Check out this offer and more in our roundup of the five best deals we found over the last 24 hours.
Top Shoe Deal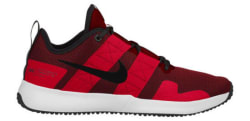 Nike Men's Varsity Compete 2 Training Shoes
Store:
JCPenney
Price:
$35
in-cart
Shipping:
In-store pickup,
or $8.95 s&h
Lowest By:
$35
Expiration:
November 20 So long as you're willing to venture out to your nearest JCPenney to pick them up, you can get these Nike trainers at exactly half the price you'd pay elsewhere. (You'll still be saving a lot if you pay the $8.95 for shipping, just not as much.) They come in Red or Grey in select sizes from 7 to 15.
Click here to see more shoe deals.
Top TV Deal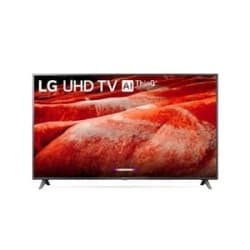 LG 82" 4K HDR Smart TV with $150 Dell Gift Card
Store:
Dell Home
Price:
$1797
Shipping:
Free shipping
Lowest By:
$150 If you have a spare auditorium in your home that needs a TV to occupy one of its empty corners, this 82" behemoth could be the answer. RTings gave it a solid score, noting that its low input lag "is great news for gamers". (Perhaps gamers who are excited for the new Star Wars game?) The TV features a 3840x2160 (4K) native resolution, Dolby Vision, HDR10, HLG, 4K Cinema HDR, 802.11ac, Bluetooth 5.0, webOS (with access to Netflix, Hulu, Amazon Video, more), three USB 2.0 ports, four HDMI inputs, and Magic Remote with ThinQ AI.
Click here to see more TV deals.
Top Tool Deal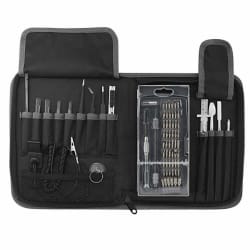 AmazonBasics Electronics Tool Kit
Store:
Amazon
Price:
$20.79
Shipping:
Free shipping with Prime
Lowest By:
$9 This Amazon-brand kit is perfect for the type of person who likes doing Eleanor Shellstrop impressions towards their tools while doing minor home electronics repairs. It's designed for use with small electronics like smartphones, tablets, PCs, and gaming devices, and comes in a zippered case.
Click here to see more tool deals.
Top Grooming Deal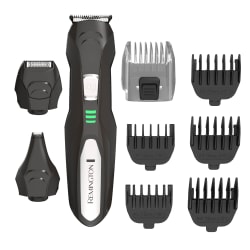 Remington Lithium All-In-One Men's Grooming Kit
Store:
Walmart
Price:
$12.97
Shipping:
In-store pickup,
or $5.99 s&h
Lowest By:
$23 Simpy adding this grooming kit to your Walmart cart will
shave
an extra $5 off its price. The best part is, the $5 discount applies automatically, unlike Amazon coupons, which are usually
clippers
.
Update: I'm hearing from my editors that I should
cut
it out and tell you that the kit includes eight attachments, for a total of 16 style and length choices, and gives up to 70 minutes of runtime per charge.
Click here to see more grooming deals.
Top Suit Deal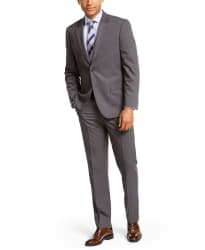 Nautica Men's Solid Modern-Fit Suit
Store:
Macy's
Price:
$79.99
Shipping:
Free shipping
Lowest By:
$315
Expiration:
November 18 For anyone who finds it hard to keep up with the different fits of suit, remember that a modern fit means it looks futuristic like a uniform from
Star Trek: The Next Generation
, while a classic fit more closely resembles the older Shatner and Nimoy uniforms. (Slim fits are of course modeled on the 2D uniforms from the old cartoon series.) This Nautica modern-fit suit comes in several colors (Dark Grey pictured) in short, regular, and long sizes 36 to 40.
Click here to see more suit deals.
Click here to view the full article...