03-15-2014, 07:50 PM
Here's a picture of the original iMac, because I'm pretty sure you're confused on what you have: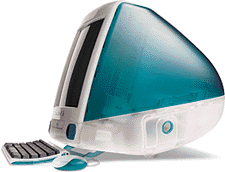 Nine years ago would have been 2005, so you're
probably
talking about this instead:
(for the record, that's a third-gen iMac)
Anyway, copying over your data from the old iMac to the new MBP would be pretty straightforward using the built-in Migration Assistant, but you have to be on an Intel iMac running 10.6.8 or later to use MA in Mavericks (I just found this out today by looking up the article on Apple's support base). If your machine is the G5 iMac I referred to above, then this won't work for you.
The Migration Assistant would intelligently move over those things (like documents, music, files, photos, etc) that are compatible with your new machine, and would not move over things that aren't (system, PPC apps). It's really pretty amazing, sadly your machine likely doesn't qualify.
Luckily, Apple has a guide for manual migration:
OS X: Manually migrating data from another Mac
Bear in mind that if your machine is in fact a G5 iMac as I've guessed, then very few to none of your third-party applications can be brought over, since this Intel MacBook Pro can't run PPC apps. You'll need to upgrade or purchase updated versions of the third-party apps you need, or find substitutes for them (example: Pages [which would be free for you to download as you're buying a new Mac] can handle Word documents and open old AppleWorks word processing files).
Naturally I would encourage you to do a full backup of the old iMac while it is still functional. You can opt to "clone" the entire drive using something like SuperDuper (free to do a single full clone, $28 for routine use).
Be aware of any files you have that are important and created in programs or formats that are long gone/no longer supported (like AppleWorks) and have a plan ahead of your migration on what program you're going to need to work with those files now. In some rare cases you may need to convert your old files on your old iMac to a modern standard BEFORE copying them over to your new MBP, or you might find yourself up a highly polluted tributary without the needed means of locomotion if you catch my drift.