05-04-2010, 05:46 PM
About a month ago I finally found somebody selling a "Lampshade" iMac G4 to add to my collection. I always wanted one of these because of it's interesting design...but everyone selling them locally on Craig's List were just asking too much!
Most that were for sale were the 800mhz & 15" display variety. The iMac G4's came with 700mhz to 1.25ghz G4 processors, and a 15", 17", or 20" LCD display. I sort of wanted an iMac G4 with something larger than the 15" display.
The iMac G4 I purchased had a 17" display with a 1.25ghz G4 processor. Everything worked fine with it...except that the display was out of alignment (see photo below). The display had a left to right side-ways tilt that was cosmetically very irritating & of course when you used the computer you sort of had to "tilt your head" to one side to see things correctly!
Initially I wasn't really sure if this could be corrected...or if some previous owner had somehow REALLY banged this thing around...and now the display was messed up forever!
I found this service manual for the iMac G4 (warning long .pdf service manual file download):
ftp://grijan.cjb.net:21000/macintosh...-inch_1ghz.pdf
...which outlined how to remove the display...and expose the screws used to align the display.
The toughest part of the display removal was:
-
disconnecting the 4 cables that provide video & power. The display cannot be completely lifted off to disconnect the cables (the cables are too short & are taped to the back of the display).
-
these cables are very thin & sort of fragile, and a couple of the connectors are very small & hard to grasp.
-
you can only tilt the display about 6" (due to the short cables)...so even getting access to the cables with your fingers is tough. Someone with large hands & "beefy" fingers would have a really tough time!
In any case...notice the left to right tilt (in the photo with the display removed)...and the 4 screws in the center used to do the display alignment. Performing the alignment is really very easy. Loosen the screws, align the display, tighten the screws! Then put it all back together.
Before & after photos of my iMac G4: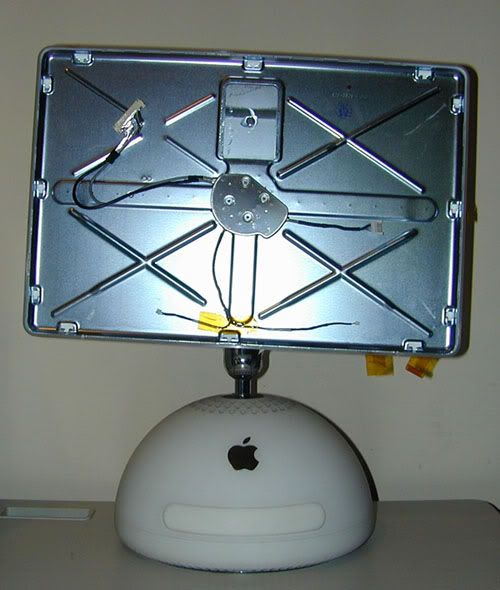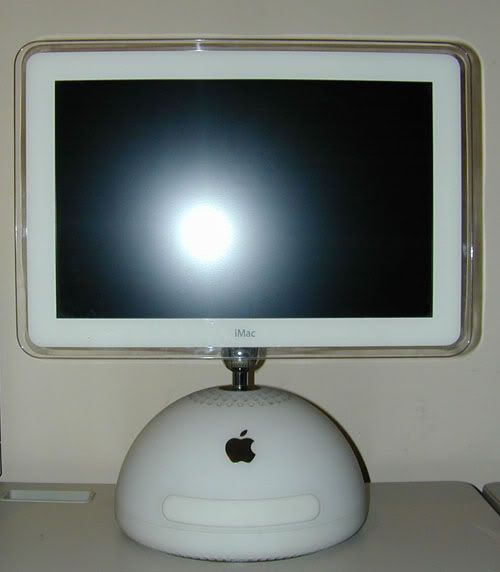 Hopefully if there is someone out there with an iMac G4 with a "tilted display"...you find this helpful!
- Nick
p.s. I apologize for the "photo flash" glare on the screen in the one photo. The room was dark & needed the flash...and to get a true perspective of the alignment...the photo needed to be taken from straight in front of the display instead of at an angle.