12-31-2009, 08:04 PM
It's a static electricity season here in winter wonderland and I've noticed my new iMac is a pretty good attractor of the sparky stuff. What danger do you suppose this poses to the innards? I've got the idea of grounding the case, which in theory would conduct the static electricity around the outside and down to the ground. I made a grounding wire which I've clipped to the base, as in this photo: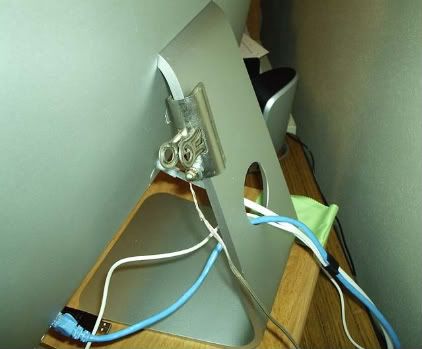 the wire is attached to the building ground. Question is: is this actually doing any good? Doing nothing at all? Doing harm?
I know the outer frame is aluminum, but it seems the back is plastic, so if there's no conductive path between the frame and the clip on the base, it might actually be routing the static through the inside to get to the ground. Except if the plastic back is coated with a conductive material (for the RFI shielding) then my clip-on ground might work.
If attaching the ground to the base isn't a good idea, any other suggestions?
Anybody know if this works? Thoughts pro or con? Thanks......